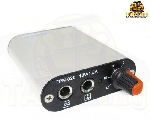 View Details
Power Input - universal 90-264 Vac Input Range (Can be used in Any Country). With its 18 Volts & 1.5 Amp output, the T Force puts out enough power for any coil or rotary machine. It will fit in the palm of your hand or in your pocket. Colors available in blue, black and silver.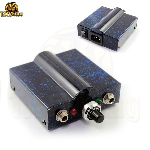 View Details
Max Voltage - 15 volts & 2Amps. Dimension - 5.5" (L) x 4" (W) x 1.75" (H) Power Input - 110-240V (Can be used in Any Country). 8-turn voltage adjustment knob that can fine tune the voltage up to 1/10th of a volts. It's durable and compact.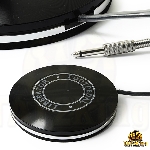 View Details
Cord Length - 8 feet long Pedal Dimensions - 5.5" inch wide & 0.50" inch tall Wire Type - Premium Copper Wiring Available in black and silver! This wide thin pedal has the most sensitive switch which can be turned on 360 degree.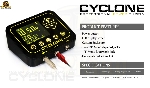 View Details
Product specification: 1. LED display screen. 2. Custom Enclosure. 3. Two different output switching jacks. 4. 1/4" Mono footswitch jack. 5. Universal cord set socket. 6. Dimensions: 160mm x 115mm x 58mm. 7. Voltage Requirements: 100-240V, 1.4 - 0.7A, 50/60 Hz . 8. Output: 0-18V, 2A Product features: 1. The Stopwatch is used to start/stop and reset timer functions. Press the Stopwatc...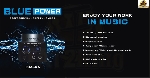 View Details
Blue Power Supply for Tattoo and PMU Product info: 1.Tattoo & PMU dual-use. 2.Bluetooth speaker (can connect with cell phone), input DC 5V. 3.Magnetic base. 4.Jump start / Normal Start. Lamp on, the voltage jump start and go down the displayed voltage in 0.2 seconds. Lamp off, the voltage start with displayed voltage. 5.Momentory/Maintained/No Pedal mode. Momentary mode (lamp o...