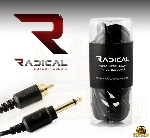 View Details
Brand: Radical Color: Black Cord Length: 2M long Plug Type - 1/4" Phono Plug Phono Plug Product Info - This soft silicone RCA cord is flexible and made from quality copper core, 4.5mm thick. The RCA head is made of brass, not easy to deform after long time using. Packed in our specially designed clear acrylic cylindrical box, nice and durable !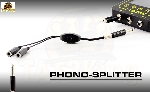 View Details
1/4" Phono Plug Clip Cord Splitter. Cord material: Silicone. Feature: With this Splitter, you can connect with 2 machines and switch between them to work. It also has a pause function. Package: Individually packed in Self sealing bag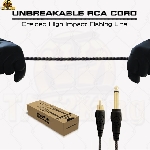 View Details
Cord material: Imported anorexic copper wire wrapped with silicon gel, and with internal reinforcing fiber, the tension can reach 30 kilograms. The whole wire is covered with transparent nylon thread, which is more durable and better feeling. Cool design plug. Plug: 1/4" Mono plug to RCA plug Cord length:2 meters Package: 1pc/box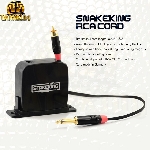 View Details
Silicone cord made in Germany. Retractable cord length: 0.4-1.8 meters. Avoid the mess of trailing your cords along the floor. Equipped with heavy duty strength mounting magnets. Removable mounting base. Can be equipped with RCA clip cord adapter. Colors available in black and silver.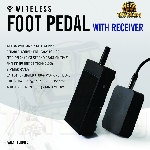 View Details
Product features: -Convenient and easy to use. -Zero delay(0.03 second reaction time). -Anti-interference technology. -3 meters range. Product info.: Battery operated (100+ working hours), both the receiver and pedal require 2 AAA battery to operate. Foot pedal: 232g /10.45*7.15*2.25cm. Receiver: 38g / 6.8*6.8*1.9cm. Note: Please note that this pedal will not work either on low-end powe...