Tubes/Tips/Grips / Tattoo Cartridge Grips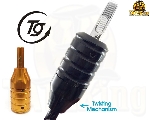 View Details
This is one of the First Grips that allow you to adjust how far your needle comes out without having to unclamp your grip. With a simple twist you can bring your needle farther out or closer in. With our Patent Pending design, this grip is only made with the best aircraft aluminum. Besides being light weight and durable. This Grip allows you to extend your grip 4mm. Each twist increase your n...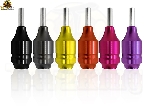 View Details
This Aluminium Cartridge grips is light weight and will not rust. It's used with Cartridge tips. Packed with 2 pcs extra plungers and 1pc cartridge grip. Colors available in yellow, silver, red, purple, green, blue, black and polished.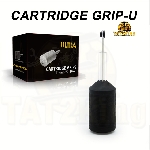 View Details
Disposable ULTRA Brand Cartridge Rubber Grip Grip size: 1" inch (25mm) Color: black Package: 20pcs/box. Each grip packed with 1pc 91mm plunger. Diameter of plunger head: 3mm E.O Gas sterilized. Fit for all the types of Cartridge needles.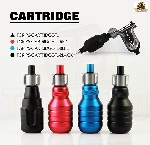 View Details
Product features: The most important feature is the cartridge grip can be opend to clean. Suit for all kinds of cartridge needles on the market. Adjustable length. Aluminum Alloy material Size 29mm. Size 32mm is available in blue, red and black.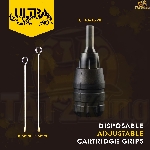 View Details
Available in two types: -Ultra Disposable Twist Lock Tgrip: are compatible for with a Twist Lock machine like: Cheyenne Thunder & Spirit, FK Irons Halo & Direct & Edge X. -Ultra Disposable Vice TGrip: are compatible with all basic rotary & coil machines with Vice Locks. Product info. : Grip size: 30mm grip handle Made of rubber and ABS E.O. Gas Sterilized and individually packed, 10pcs...