Bluetooth Speaker Power Supply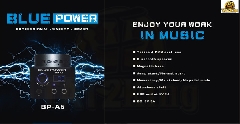 Add to cart
Select Item.


Item No. PS-BPA5
Wholesale Price. USD $120.00
Sale Price. N/A

Quantity.


Blue Power Supply for Tattoo and PMU

Product info:
1.Tattoo & PMU dual-use.
2.Bluetooth speaker (can connect with cell phone), input DC 5V.
3.Magnetic base.

4.Jump start / Normal Start.
Lamp on, the voltage jump start and go down the displayed voltage in 0.2 seconds.
Lamp off, the voltage start with displayed voltage.

5.Momentory/Maintained/No Pedal mode.
Momentary mode (lamp off) - the poweris supplied to the machine only when the pedal is actuated.
Maintained mode (Red lamp on) - the power functionas a typical maintained switch "push on, push off". Be carefull not to leave maintained mode activated while machines is unattended or bound up.
Keep supplying mode (Blue lamp on). the power keep supplying to the machine and no need any pedal.

6.Aluminium shell.
7.USB outlet 5V 2A. DC 19V 3A.
8.TF card.
9.Line in: works as active speaker by audio line. (this model do not support Prev/ Next control)
10.Microphone.