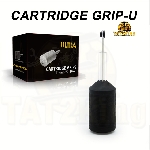 View Details
Disposable ULTRA Brand Cartridge Rubber Grip Grip size: 1" inch (25mm) Color: black Package: 20pcs/box. Each grip packed with 1pc 91mm plunger. Diameter of plunger head: 3mm E.O Gas sterilized. Fit for all the types of Cartridge needles.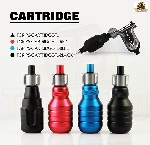 View Details
Product features: The most important feature is the cartridge grip can be opend to clean. Suit for all kinds of cartridge needles on the market. Adjustable length. Aluminum Alloy material Size 29mm. Size 32mm is available in blue, red and black.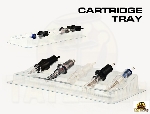 View Details
Disposable Cartridge Tray is fit for all kinds of cartridge needles. You can put 5 needles which are ready to use on each tray. Package: 10pcs/bag. Color: Clear
View Details
Product features: - Touchfree - Adjustable volume - Low energy consumption How to use: 1. Install 4 batteries. 2. Press and hold on/off button for one second. 3. Fill bottle with soap liquid, place hand under sensor and the soap will dispense. Package contents a dispenser, a manual, a tape sticker, an empty bottle. 4. You can stick the dispenser on the wall with the tape.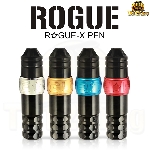 View Details
Rogue-X Professional Tattoo Pen. This machine uses a Standard DC electric motor and has 9800 RPM. The Machines work with Most Cartridge Needles and can work on any power supply. Operating Voltage: 7-10V Needle Protrusion: 0-4.5mm 3.5mm stroke. Included: Machine cords. Needle Swing: Adjust your needle swing length with a simple twist of the grip. Colors: Gold, red, silver, blue.