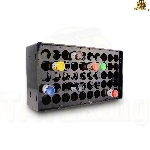 View Details
Tattoo Ink Rack - Can be placed on table top or mounted to flat surface. Must have for any artist, helps keep your color organized and looks great. Holding Capacity: 50 bottles of ink (1-oz bottles) Size: 15.25 (W) x 8.75 (H) x 4.5 (D) Rack Colors: Black plastic acrylic Please Note: some brand inks may have fatter bottles which will not fit. We will not be responsible if the ink does no...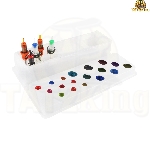 View Details
This XL Workstation has it all, and also now includes a cleaning sponge to clean off your needle head when you switch between colors. Also includes a sliding cartridge holder that holds up to 12 cartridges. It has built in ink cups holder: 9 spots for #9 Ink Cups, 6 spots for #16 Ink Cups, 3 spots for #20 Ink Cups This disposable work station is 9.25" (W) x 1.75" (H) x 6" (D)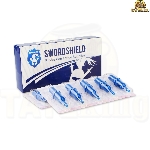 View Details
Feature: Fits into any universal cartridge tattoo machine. Helps you practice and master your dotwork, stippling, whip, shading, and linework skills. This cartridge fits easily into any universal cartridge tattoo machine and makes hand-drawing feel just like tattooing. Aside from tattooing practice, this cartridge also lets you create artwork on a variety of mediums (wood, canvas, etc) for y...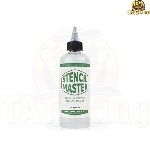 View Details
From the high end brand Stencil Master, this is one of the most powerful non toxic solutions for perfect stencils. It will last the duration of your tattoo yet can be removed if required using alcohol. 8fl oz (240ml)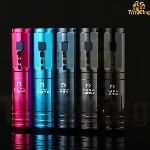 View Details
Stroke: 3.5 mm Material: Aviation aluminum alloy Voltage: 4.5V-12V Charge input: 5V/1.5A Output: 4.2-12V Spare battery capacity: 1900MAH Speed: 8000-10000rpm Advantage: Wired & Wireless Pen size: 32mm*142mm Box size: 267*85*172mm Set include: 1 High-grade aluminum alloy box 1 Charging base 2 Charging cables 1 Charging Head 2 Batteries 1 Hooking Connector