Tubes/Tips/Grips / Tattoo Cartridge Grips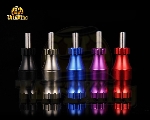 View Details
Product info.: Grip size: 1"inch grip. Colors: Black and grey. This cartridge grip is made of aluminum. Compatiable with all the cartridge needles on the market. Have a special locking system on. After you adjust your grip to the correct swing length for your cartridge you can Lock it in with our specialty twist lock at the bottom of the grip.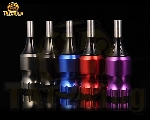 View Details
Product info.: Material: Aircraft aluminium Grip size: Available in 1"inch and 1.25" inch grip. Colors: Black and grey. Adjust your needle swing with a simple twist of the grips. Compatiable with all types of cartridge needles on the market. And fits all the machines that use a vice lock.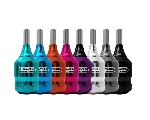 View Details
The Big Wasp Adjustable Aluminium Cartridge Grips are easy to break down to clean. It can be sterilized with cold sterilization methods. The grips come in 2 different size: 1" inch & 1.25" Inch. They are also available in a wide variety of colors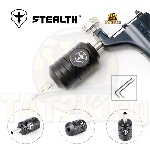 View Details
The stealth grip is only used for loop bar needles and includes a Guiding wheel in the grip to help keep your needle stable and down. The guiding wheel connect to the grip with 2 strong magnetics, allow you easy access. This Grips front grip has a Twist Grip to lock in your tip. No more hex key or hex screw damaging your tips. It used pressure to lock it in. Made from Aircraft Aluminum...