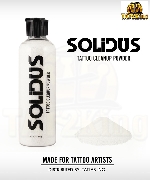 View Details
Solidus Desiccant (Tattoo cleanup powder) MADE FOR TATTOO ARTISTS! Usage : - Open spout and squeeze SOLIDUS (1g powder per 2oz of liquid) into rinse cup or ink cap. - Be sure to close spout afterwards to prevent moisture from getting inside the botle. - Allow a few seconds for powder to solidify liquid content then safely. Dispose rinse cup or cap into the trash. Package: 150g/bottle...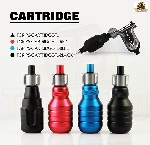 View Details
Product features: The most important feature is the cartridge grip can be opend to clean. Suit for all kinds of cartridge needles on the market. Adjustable length. Aluminum Alloy material Size 29mm. Size 32mm is available in blue, red and black.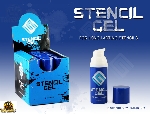 View Details
Our newest original USA STENCIL GEL is formulated to easily transfer all stencil and works with all brand of tattoo stencil paper. It can get a dark and clean stencil with a unbeatable long lasting stencil performance. Package: 60ml/bottle, 12bottles/box. Using instructions: -Squeeze a small amout of stencil gel on gloved hand or directly on prepared area. -Spread evenly on prepared area...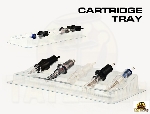 View Details
Disposable Cartridge Tray is fit for all kinds of cartridge needles. You can put 5 needles which are ready to use on each tray. Package: 10pcs/bag. Color: Clear
View Details
Product features: - Touchfree - Adjustable volume - Low energy consumption How to use: 1. Install 4 batteries. 2. Press and hold on/off button for one second. 3. Fill bottle with soap liquid, place hand under sensor and the soap will dispense. Package contents a dispenser, a manual, a tape sticker, an empty bottle. 4. You can stick the dispenser on the wall with the tape.