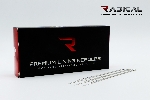 View Details
Needle Gauge/Diameter - Standard #12(0.35MM), Bugpin #10(0.3MM) Package:50pcs/box Material:316 Stainless Steel Sterilized - E.O. Gas sterilized The Radical® Tattoo Needles set the New Standard. These needles go through new and additional strict manufacturing process to insure you get the finest needles in the industry.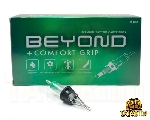 View Details
The newest addition to the Beyond® line of cartridges. These cartridge needles now come with a Comfort Grip ledge that give your fingers the perfect resting place when working. Package- 16pcs/box Sterilized - EO Gas Sterile Diameter: 0.4mm, 0.35mm, 0.30mm Tip: Round liner, round shader, magnum, curved magnum. Compatibility - These cartridges are industry standard and will fit all machines a...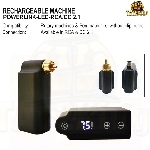 View Details
Product info. : Connection: DC and RCA available Input: DC5V/1A Output: 4.2-12V Size: 2.3*3*6.2cm Weight: 58g How to use: Long press for on/off Short press "+" "-" to adjust the voltage Real-time display of the digital voltage, let you know the current voltage at any time. Note: Charge continuously for 1 hour can be full. The voltage is on at 6-8V and can use 2-3hours.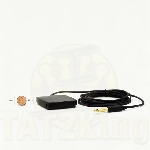 View Details
Product info.: Compatible: All the power supplies. Material: Aluminum CNC Weight: 166g Plug: 1/4" phono plug Pedal size: 70(L)*70(W)mm Cord: 2.4m long Features: - Super thin, only 15mm thick - With non-slip EVA pad - Mini, but strong and durable.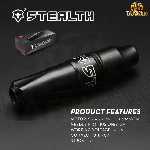 View Details
Product info.: Liner or Shader - Can do both Lining or Shading Color - Black anodize finish Machine Type - Tattoo Pen + Protective Zipper Case Needle Swing - 3.5mm Swing Needle Protrusion - 0 to 2.5mm adjustable. With a simple twist of the grip, you can adjust how far your needle extends out of the tip. The grip twist smoothly and precisely with the click adjustment feature. Motor Info a...