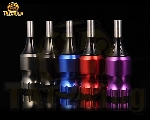 View Details
Product info.: Material: Aircraft aluminium Grip size: Available in 1"inch and 1.25" inch grip. Colors: Black and grey. Adjust your needle swing with a simple twist of the grips. Compatiable with all types of cartridge needles on the market. And fits all the machines that use a vice lock.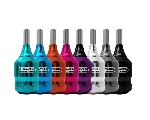 View Details
The Big Wasp Adjustable Aluminium Cartridge Grips are easy to break down to clean. It can be sterilized with cold sterilization methods. The grips come in 2 different size: 1" inch & 1.25" Inch. They are also available in a wide variety of colors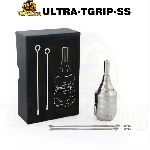 View Details
Brand: ULTRA Material: stainless steel Grip size: 32mm Compatible with all the standard cartridge needles on the market. Package: 1pc per box, includes 2pcs plungers of 90mm and 95mm.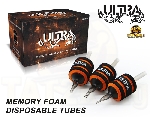 View Details
Product info.: Tip Style - Round tip, Flat tip, Open flat tip, Diamond tip. Material: Rubber Grip style & size - 1.25" Inch foam grip handle Tube color: clear grey Performance - Reduces cramping of the hands, vibration and great for Lining & Shading, Sterilized - Yes Package: 25pcs/box