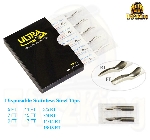 View Details
Material: Stainless steel Package: box of 10 Sizes available: FT5, FT7, FT9, FT11, FT15, FT17 RT3/5, RT7/9, RT11/14,RT16/18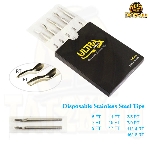 View Details
Material: Stainless steel Package: Box of 10 Sizes available: FT5, FT7, FT9, FT11, FT15, FT17. RT3/5, RT7/9, RT11/14, RT16/18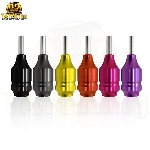 View Details
Color: Red Size: 25mm (1" inch) Package: 20pcs/box This cartridge grip is fit for Cheyenne Hawk Cartridge tips, and works with some powerful tattoo machines with extra plungers. Length of plungers available: 80mm, 82mm, 89mm, 95mm Remark: Plungers are not included, need to buy extra, $0.3/pc.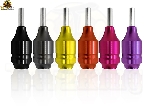 View Details
This Aluminium Cartridge grips is light weight and will not rust. It's used with Cartridge tips. Packed with 2 pcs extra plungers and 1pc cartridge grip. Colors available in yellow, silver, red, purple, green, blue, black and polished.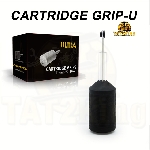 View Details
Disposable ULTRA Brand Cartridge Rubber Grip Grip size: 1" inch (25mm) Color: black Package: 20pcs/box. Each grip packed with 1pc 91mm plunger. Diameter of plunger head: 3mm E.O Gas sterilized. Fit for all the types of Cartridge needles.