Permanent Makeup Supplies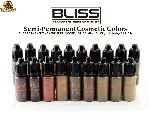 View Details
BLISS ink for eyebrow and eyeliner. This ink is used with permanent makeup machines. Colors: mocha, coffee, chocolate, espresso, coco, latte brown, rosewood, walnut, cinnamon, gingerbread, pecan, ochre, canyon, umber, tan, charcoal black, gray, ash, fossil. 10ml/bottle.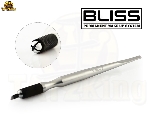 View Details
BLISS Brand Microblading Pen with lock-pin device Color: silver Material:Aircraft aluminum, totally handmade. Has two different sizes grooves to fit all kinds of blading needles. The head is made of copper and plate with nickel, more durable than other pens. It makes eyebrow tattoo more natural with standard color and clear lines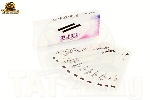 View Details
Specification: Brand: BLISS Material: Medical grade stainless steel. Package: EO Gas Sterile and Individually Packaged. 10pcs/box. Needle types: Slope curved needle Excellent eyeline, eyebrow, lip liner, full lip color, hair simulation, breast areola, sar camouflaging/reconstruction and tattooing. Diameter: 0.35mm, 0.3mm, 0.25mm, 0.2mm.