Micro Mini power supply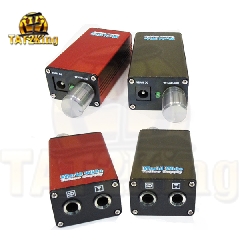 Add to cart
Select Item.


Item No. PS-MICROMINI-BRO
Wholesale Price. USD $10.20
Sale Price. N/A

Quantity.


Maximum Voltage - 15 volts & 1.5 Amps
Dimension - 1.5" (W) x 3.25" (L) x 1" (H).
Power Input - AC110-240V (Can be used in Any Country)
This is the world's smallest power supply, great to have as a back up or great for traveling artist that attend tattoo expos. The power supply does have an AC adapter that is connected to the power unit.
Available in brown, red and silver!